Welcome to our website...
Internet Sale 71 is now closed for purchases.

Internet Sale 72 will be on the website soon.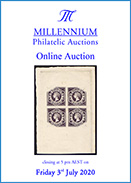 Download Sale 71 PDF Catalogue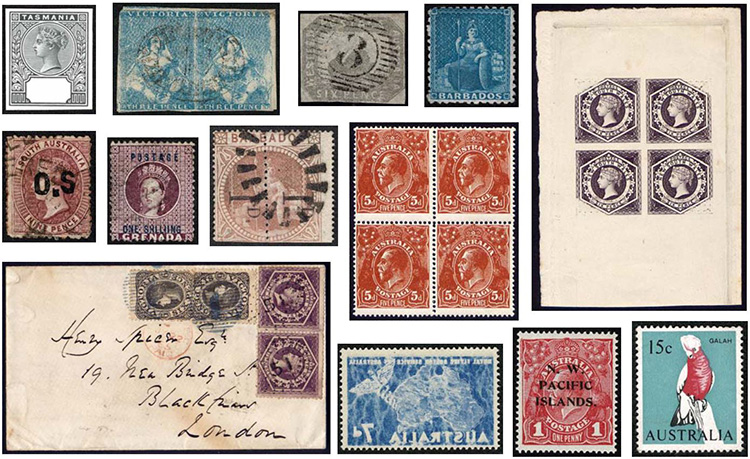 Welcome to our 71st sale, which was an online auction only, comprising 1119 lots featuring a wide range of Australasian and All-World material.
All Australian Colonies are well-represented. New South Wales features exceptional Diadem issues, with important die proofs plate proofs (including the famous 2d Plate II sheet of 120), stamps and a fine range of covers, including Moreton Bay District and Riverina mail. South Australia includes a good range of Perkins Bacon, issues with multiples and errors, and there are also several Official overprint errors. From Victoria there are several Half-lengths with retouches, a good range of higher value Stamp Duty issues, and some fine postal history. Western Australia has a good lot of the very scarce early rouletted stamps, and a fine collection of the various types of barred obliterators, broken up suitably. Most Colonies also include some useful Postal Stationery and ranges of cancellations including some unusual material.
Australian Commonwealth includes useful ranges of Kangaroo and George V issues, a large selection of Decimal Presentation Cards and a very good lot of the Postage Dues, including single rarities amongst the Monocolour Issues, and an extensive and rarely offered range of monograms and imprints of the bicoloured Issues.
From New Zealand there are scarce proofs and SPECIMEN stamps, especially of the Postage Due issues, and a good range of the Arms Type postal fiscals. A feature of Rest of the World are fine ranges of some British West Indian islands, with scarce 19th century material from Barbados, Grenada and St. Lucia. Most significant is the finest collection of Trinidad Postage Dues extant, suitably lotted. This includes the only recorded essays, rare SPECIMEN overprints, and an extensive range of uses on cover.
Attention is also drawn to Lot 3, a Gold Medal award-winning thematic collection of 'The Canoe in Pacific Culture', offered intact.
Contact Email: info@millenniumauctions.com