Welcome to our website...
Internet Auction for Sale 68 finished.
Unsold lots now available for purchase.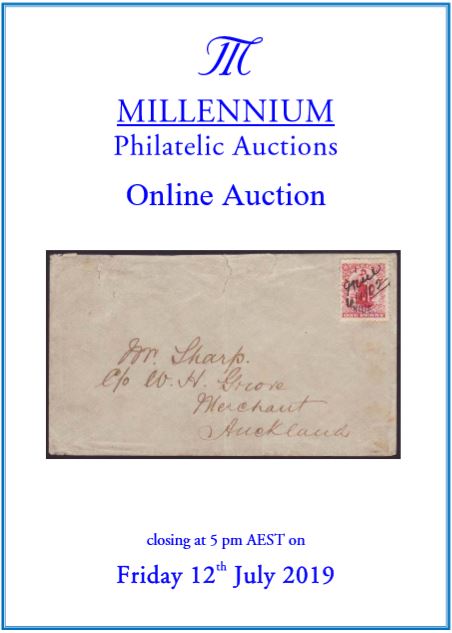 Download Sale 68 PDF Catalogue
Welcome to our 68th sale, which was an online auction only, comprising over 1300 lots offering a wide range of material, concentrating on Australasia.
All Australian Colonies are represented, with strength in New South Wales, highlighted by an attractive group of 9d handpainted essays, and including Specimen overprints and a fine range of numeral cancellations and other postmarks. Some useful Tasmania includes two very rare Chalons with private perforations unpriced in the catalogue. Victoria also has some good Specimen overprints, and a fine range of high value Stamp Duties, and there is a previously unrecorded group of Beer Duties with Specimen or CANCELLED overprints.
Australian Commonwealth has complete pre-decimal collections both mint and used in superior quality, suitably lotted. The Monocolour Postage Dues, in particular, are in exceptional condition. Supplementing the complete sets of mint and used Kangaroos is a complete range of SPECIMEN overprints which includes some of the rarest sub-types of the Type C overprint. The 'OS' punctures are also largely complete except for the rarest high values. The George V issues feature a superb mint corner example of 1d Deep Red Large Multiple Wmk.
A wide range of New Zealand material, from Chalons onwards, includes many sets in exceptional condition, with strength in Pictorials, Postage Dues and the Arms Type postal fiscals.
This sale also has perhaps the finest collection of Niue extant, offered in over 200 lots. All phases of the stamps and postal history are covered, beginning with no less than 23 examples of SG 1, including three covers. Virtually all the surcharge errors are present, and there is an exceptional range of U.P.U. SPECIMEN overprints. The 1920 and 1932 Pictorial issues are very strong with impressive arrays of essays, die proofs and plate proofs.
Rest of the World includes many interesting items, and there is a fine collection of Rhodesia & Nyasaland, suitably lotted.