Welcome to our website...
Internet Sale 75 is now closed,
and unsold lots are available for purchase.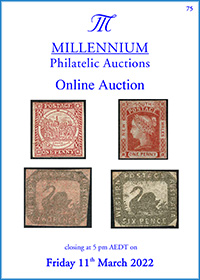 Download Sale 75 PDF Catalogue
Welcome to our 75th sale, which was an online auction only, comprising 913 lots featuring a wide range of Australasian and All-World material.
All Australian Colonies are represented with useful collections, and very scarce unused imperforate issues, including Sydney Views, Half-lengths, and the Western Australia 2d and 6d lithographs. South Australia includes a one-frame exhibit of the 3d 'Long' stamp which contains all the rarities and is offered intact. From New South Wales and Victoria there is a fine selection of postage dues used on cover.
Australian Commonwealth has an exceptional collection of coil issues which includes most of the important rarities. There is a fine selection of the ½d and 1d Kangaroo and ½d to 2d George V issues as used in coil machines, including some scarce Kangaroo covers. The George VI and Queen Elizabeth II period includes a number of rare coil starter strips, coil perf. blocks, and two 2d George VI plate numbers from the special coil plates. The Decimal floral coils include fine studies, and a number of missing colours.
A large offering of Postage Dues includes a very extensive offering of the bicoloured issues, including a number of rare monograms and imprints, perforation errors, plate numbers, U.P.U. specimen stamps and complete sheets. A highlight of the large offering of Postal Stationery is no less than fourteen of the rare stamped-to-order lettercards, which represents a significant portion of the surviving material. A small group of World War I material contains a diverse range of ancillary material and ephemera.
Rest of the World includes a number of collections, and highlights of Great Britain are the 1840 1d and 2d unused stamps offered together as one lot.
Contact Email: info@millenniumauctions.com