Welcome to our website...
Sale 68 will open soon,
closing at 5pm AEST on 13th July 2019.
Download Sale 67 PDF Catalogue
Internet Sale 67 sales are now closed.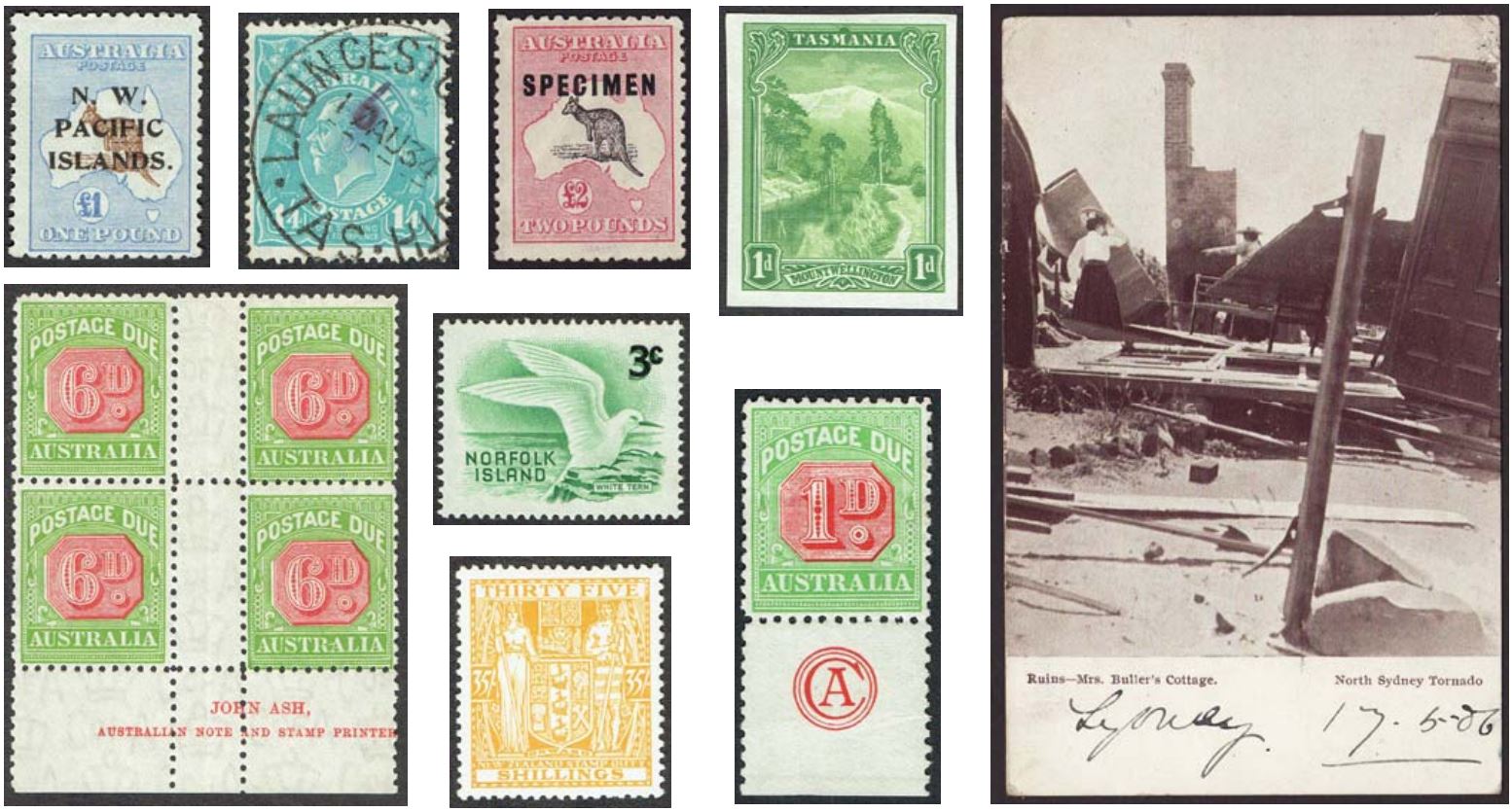 Our 67th sale, which was an online auction only, comprised 1133 lots offering a wide range of material, concentrating on Australasia.
A very extensive collection of early 20th century picture postcards, comprising approximately 25,000 cards, has been broken into over 130 lots. The strength is in Australia, with all States well-represented, with New South Wales being particularly strong. There are also good ranges of cards on general subjects, ranging from such as humour, military, handpainted cards, religion, ships, and there are excellent collections of the popular Ottmar Zieher 'Stamp' postcards.
All Australian Colonies are represented, with New South Wales including a wonderful pair of 2d Diadem imperforate plate proof sheets, and a good range of rare numeral cancellations. Victoria has some nice mint higher value Stamp Duties, and from Western Australia an important and famous rarity is the 1854 1/- plate proof showing an offset of the 4d on reverse which includes a portion of the 'Inverted Frame'.
Australian Commonwealth begins with some useful Kangaroo issues, followed by a large section of George V stamps. There is a collection of the ½d value, suitably broken up into electro studies, 1d red shades, and 2d orange and 2d red plate varieties, including the 2d red '21' variety mint. The later period includes a good range of Presentation and Collector's Sets.
A fine range of Postage Due issues include a number of rarely offered complete sheets, rare monogram pieces of the 1909-10 and 1913-23 Wmk Crown over Double-lined A issues, plus imprints of the 1922-30 Third Wmk and 1931-36 C of A Wmk issues, the latter highlighted by the very rare 6d in an imprint block of 4. Later issue include several rarely offered plate numbers. A large range of postal stationery includes extensive groups of Scenic Lettercards and Registration Envelopes.
From New Guinea, there are some useful lots of G.R.I. surcharges, followed by some fine N.W.P.I. overprints, including a mint £1 Fifth Setting. Papua New Guinea includes some good Postal Surcharges, and New Zealand has some fine Chalon issues plus an extensive range of later issues, strong in U.P.U. receiving handstamps, Postage Dues, Arms type postal fiscals (with a 35/-) and O.P.S.O. overprints.