Welcome to our website...
Unsold lots from Sale No. 66 are available for sale.
Internet Sale 67 will be online in mid-March
and closes at 5 pm AEDT on Friday 5th April 2019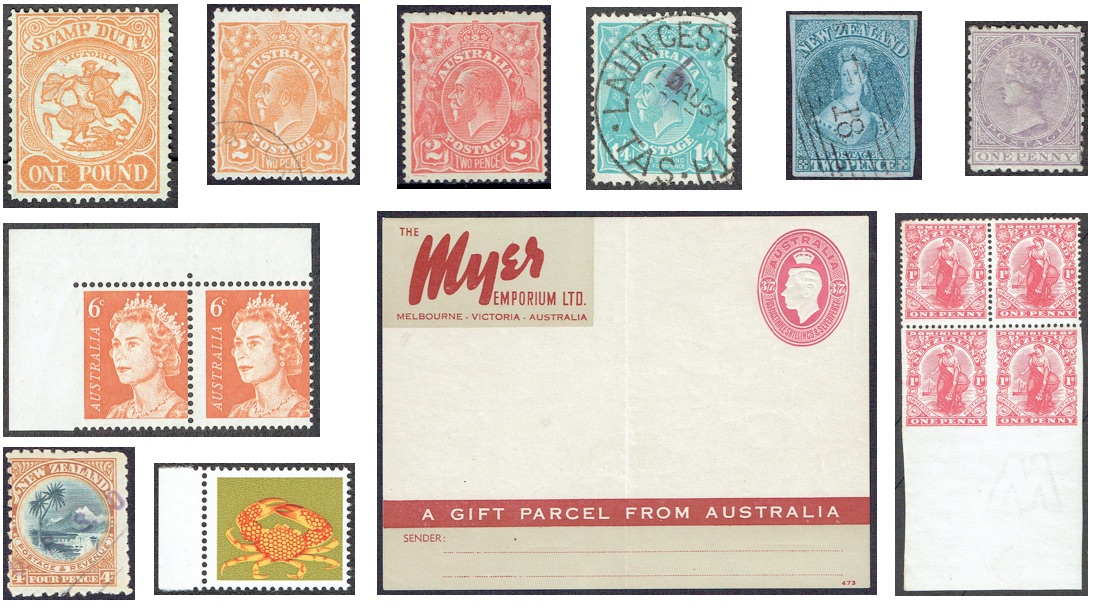 Our 66th sale was an online auction only, comprising over 1250 lots offering a wide range of material, concentrating on Australasia.
All Australian Colonies are represented, with an emphasis on postal history, including an exceptional range of inwards mail to the Australian Colonies. Victoria includes the original contract for the Campbell Half-lengths and 2d Queen-on-Throne, and some useful Stamp Duty issues, and there is a complete group of the 1908 American Fleet stationery, including ancillary material.
Australian Commonwealth begins with some useful Kangaroo issues, followed by a large section of George V stamps. There is a collection of the ½d value suitably broken up into electro studies, 1d red shades, and a good range of the 3d value, but the highlight is the 2d orange and 2d red which includes most of the rare plate varieties, including the 2d red '21' variety mint. The later period includes a fine collection of pre-decimal first day covers, with strength in the pre-war period. An exceptional collection of Presentation and Collector's Sets includes a number of rarely-offered items. The decimal issues include rare perforation errors on the 4c and 6c Queens, and the Postage Dues are represented by several sheets of the 1902-1909 ½d issues. A large range of postal stationery includes over 140 lots of Scenic Lettercards, a comprehensive range of Registration Envelopes, and a choice group of the Food Parcel Labels including the mint 3/7d, and used 5/10d from Anthony Horden, both major rarities.
The 160 lots of New Zealand begin with a fine range of Chalon issues, nearly all in superior condition. Later issues include some fine proof material, errors, and a good lot of U.P.U. receiving authority handstamps. A small group of Postage Dues on cover includes a very rare 1899 second day of use.
Most other Australasian areas are also represented, with fine commercial usage from Papua New Guinea, and a wide range of Rest of the World material rounds out this on-line auction.